UPDATE
Completed :

Les Formidables @ dailymotion
2009 Lost Memories @ youtube
I am really fond of his clean cut look in this movie. He is so dashingly handsome. His potrayal as Shin in Typhoon is nothing to be desired but as a pirate, what choices do you have? Only Johnny Depp can take on the pirate look and make it his own.
Ok, fans of Bae Yong Joon, be prepared to experience a new kind of Bae Yong Joon in my upcoming upload. If you have no idea, watch
Untold Scandal
later on and you'll know what I mean. You'll be shocked in the beginning but as the story progresses on, you will learn to sympathize with his character. And yes, he looks GREAT unclothed!
Untold Scandal will be uploaded to dailymotion. Be forewarned that this movie is rated M18 - Mature Audiences only. Full frontal nudity and S-E-X scenes. However, the depiction is far tamer than American/European movies.
EDIT : COMPLETED @ dailymotion
Up next in youtube is
Shiri
. This is a CLASSIC, one that all Kmovie fans should watch! This movies was rated R for strong languange and violence.
EDIT : UPLOADING @ youtube
Here's a review from
koreanfilm.org
written by Darcy Paquet;
When Shiri was first released, its producers had reason to hope that the film would draw well at the box office. It starred several well-known actors, including perennial favorite Han Suk-gyu (Christmas in August, The Contact, No. 3, Green Fish, The Ginkgo Bed) and veteran Choi Min-shik (The Quiet Family, No. 3, Our Twisted Hero). Its director, Kang Je-gyu (aka Jacky Kang) had found considerable success with his debut feature, The Ginkgo Bed. It also featured highly-advanced special effects, the likes of which have never been seen in Korean films. The story, an espionage thriller about an terrorist plot hatched by North Korean agents, was likely to draw interest in a country much concerned about its neighbor to the north. However, no amount of optimism could have predicted just how successful this film would prove to be.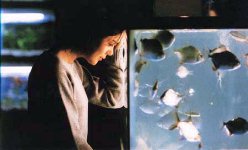 Within three weeks of its release, it had attracted more than one million viewers in Seoul, passing Im Kwon Taek's Sopyonje to become the highest-drawing Korean film in history. Only five weeks later, it would pass Titanic and become the first film ever to draw two million viewers in the capital. It would eventually attract close to two and a half million viewers in Seoul alone.
Shiri (pronounced "Shee-ree", alternate spelling: "Swiri") has drawn praise from a wide variety of sources. Members of the Korean national intelligence agency gave it a standing ovation for its detailed and accurate depiction of espionage operations. It has already received honors for best picture and best actor (Choi Min-shik, for his portrayal of a North Korean agent) at domestic awards ceremonies. The making of the film has even been analyzed and offered up as a model for Korean businesses hoping to succeed in the new century.
Indeed, the film is tightly constructed, and it many ways it rivals action movies from Hong Kong and Hollywood. Viewers have debated over the film's genre, with some describing it as a Hollywood-style action film while others term it a melodrama. We can safely say that it's both, offering both the special effects expected from Hollywood studios and the conventions of melodrama that have attracted Korean movie-goers for decades.
For those wondering about the title of the film, "Shiri" is the name of a small freshwater fish which can only be found in the central part of the Korean peninsula (i.e. the DMZ). It is also the code name taken by a North Korean spy who steals the closely-guarded CTX liquid bomb, which she then plans to detonate at an inter-Korean soccer match.
In all, this film offers an intricate plot complemented by great acting and smooth direction. It was made for $5 million, which, although quite high for a Korean feature, makes one wonder why Hollywood studios spend so much more, only to produce an inferior product. (Darcy Paquet)
EDIT : Have some difficulties with Failan so took it off the coming soon list. Hope to solve the problem ASAP. Replacing it with FACE.